Human Resources Policy & Employment Law
EMPLOYMENT LAW
LABOR RELATIONS
POLICIES AND PROCEDURES
E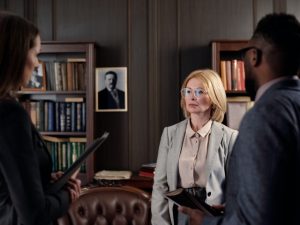 mployment law is a broad area of the law encompassing all areas of the employer/employee relationship except the negotiation process covered by labor law and collective bargaining. Most of the laws about employment are made by the federal and provincial governments. These laws are referred to as legislation.
Employment law consists of thousands of Federal and state statutes, administrative regulations, and judicial decisions. Many employment laws (e.g., minimum wage regulations) were enacted as protective labor legislation. Other employment laws take the form of public insurance, such as unemployment compensation.
Every employee works under a contract of employment, even when no contractual document has actually been signed. Once the legal relationship of employer – employee is made a number of duties and obligations arise. These duties and obligations, which make up the contract of employment, come from a range of sources including:
terms agreed by the parties
federal or state legislation
awards
common law principles
Employment law includes issues such as wages and hours, employee benefits, occupational safety and health, worker's compensation, and unemployment compensation. Some of the more cutting-edge issues involved in employment law are privacy rights in the workplace, wrongful discharge, restrictive covenants, and new causes of action and remedies for discrimination.
A list of topic areas you can expect to find in this field are as follows:
Harassment/Discrimination Issues
Discrimination
Sexual Harassment
Other Harassment
Americans with Disablities Act
Leave of Absence
The Family Rights Act
The Family and Medical Leave Act
Maternity Leave
Military Leave
Safety/Health Requirements
Safety and Injury
Prevention Programs
Drugs and Alcohol
Smoking
Separations
Reduction in Forced Severance and Releases
Termination
Job Reference Checks
Wages and Hours
Overtime
Exempt/Non-exempt
Employees
Vacation Pay
Miscellaneous Employee Issues
Personnel Files
Off-duty Activities
Records
Retention
Benefits
Employee Handbooks